Syrian Brocade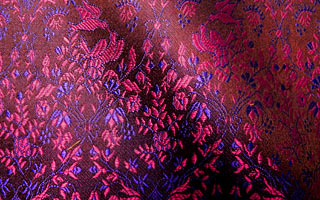 Design used for H.M Queen Elizabeth


Queen Elizabeth II wore it on her Wedding in November 1947(given to her as a gift by the Syrian Government). The famous, hand-woven Syrian silk brocade has been known for centuries, and is perhaps the finest silk ever. Called by Arabs "brokard", it has the name generating from the old language, where "brokard" meant "the work of Brahim", as it is believed that the saint Brahim developed the fine silk many years b.c

In the oldest continuously inhabited city in the world, Damascus, weavers continue to produce this beautiful fabric.

The whole craft is bound to the past. The looms do not differ much from the types first used. Nonetheless, the weavers continue to sit before looms following the intricacies of the cardboard master-pattern or, with a show of bravura, working from memory. They can be seen in Damascus weaving a variety of patterns, some of which have been in use for centuries. Each shop tries to maintain its own designs, but they are modified and copied from studio to studio. The merchant will guide visitors through the workshops and explain how the fabrics are woven. Then, at a counter, as though casually illustrating some point in his description, he will display two or three bolts and the visitor's will-power is weakened by the dazzling fabric…

Note: Maamal Naassan(or Naassan factory), the shop where the queen got her wedding dress fabric is still in existence. It is located at the end of Bab Sharqui in Damascus.
Technorati Tags: Syrian Brocade